Delivery costs
Here you can easily see how much it will cost to get your goods delivered.
After a product has been placed in your cart, you can view the delivery costs by entering your postcode. Delivery costs are calculated per order and not per window or door. This means that the delivery cost will the same no matter how many windows/doors you add to your cart.
Zone
Delivery cost

1

89

£

2

99 £

3

99 £

4

109 £

5

119 £

6

119 £
Please Note! The cost for not bridged islands are 399 £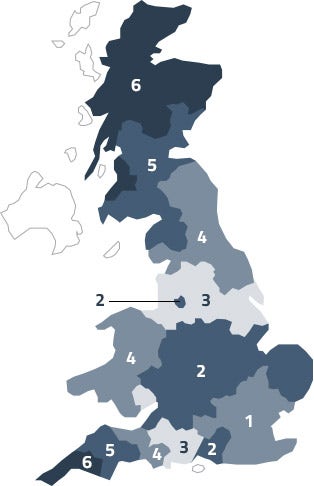 The delivery costs are based on delivery to the requested address, or the closest possible delivery address our forwarder can reach. If it is not possible for the delivery truck to deliver to the address provided, we will contact you to find an alternative delivery address. Delivery is via standard lorry with tail lift.
If you have special delivery requirements, such as a truck with crane, this will come at an additional cost. Feel free to contact us at delivery@sparwindows.co.uk, if you have any questions regarding delivery.
Once your order is dispatched from our factory, we will send you the forwarders contact information and a tracking number. If you would like specific details about your delivery, please wait until you can see updates on your tracking number before contacting the forwarder.
Please note:
When placing an order, always provide a mobile phone number that the forwarder can reach you on. If it is not possible for our forwarder to reach your requested delivery address, delivery will be made as close as possible to the delivery address provided.
Once your order is ready for delivery, our forwarder will contact you to agree upon a date and time of delivery. You will need to be present to sign for the delivery.
Please see our General Terms and Conditions here.